Location
The kos island's second largest harbor, the quaint fishing village of Mastichari, with its fresh fish and laid back pace, is just 6 kilometers from the hotel and is the perfect destination for unwinding and getting in the island mood: mouthwatering meals at the many fish taverns lining the harbor, relaxing late afternoon coffees next to the gently lapping waves, shopping or browsing in the gift shops with their multitude of tempting merchandise.
An idyllic holiday in a picturesque spot that proudly maintains the languid pace of a village of a bygone era.
And for an unforgettable day trip, from Mastichari visitors can catch the daily boat taking them across the bay to Kalymnos, the island of the sponge divers.
Maps of Kos Island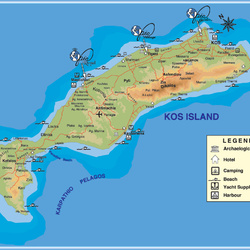 The friendly and relaxing atmosphere makes the property an ideal choice for everyone!
Transfer from Kos Airport or Port to Mastichari - Gaia Royal Hotel