Garden
Like a little "village" with its flower beds and cobblestone paths, citrus and other fruit trees, colorful flowers in full bloom and imposing palm trees -a trademark of the island's flora- the Gaia Royal sits proudly among vibrant gardens and luxurious, grassy lawns.
Swimming Pools
A fresh-water children's pool, complete with turrets and water slides, is the ideal place for kids to have fun in absolute safety, and two more adult pools with adjacent smaller areas so that parents can supervise their children while enjoying the refreshing water, make up the impressive pool area of the Gaia Royal Hotel.
The neighboring Pool Bar with its assortment of coffees, soft drinks and snacks is the ideal complement to the pool complex, where guests can relax under sun umbrellas in comfortable lounge chairs.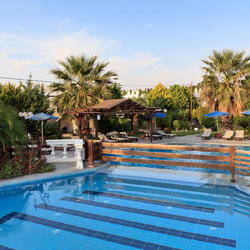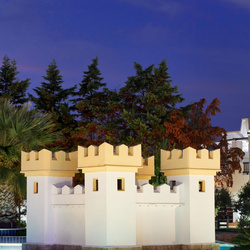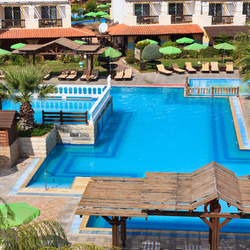 Entertainment
Organized pool programs for exercise and fun, fitness competitions and aerobics, theme nights with music and dancing, parties in the hotel's amphitheater and on the beach. At the Gaia Royal Hotel, fun is key, and the creativity and imagination of the people in charge of it have no bounds. Each successful activity leads to another. The sun, summer weather, sea and hotel surroundings make for a perfect non-stop entertainment backdrop.
For our teenage guests who enjoy surfing the net or playing video games, the hotel provides all the equipment and services they need for their favorite pastime activities including complete Wi-Fi reception and a billiard table, among others.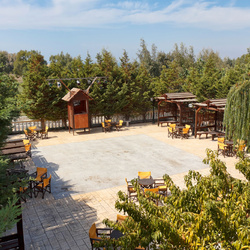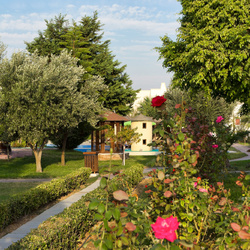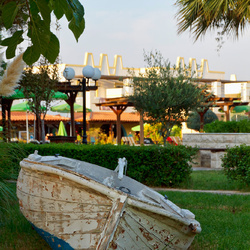 The Kids Club team makes sure your children are kept busy in an imaginative way through games on the hotel playground, dancing and dance competitions in our mini disco and a whole host of other creative entertainment options designed especially for them.
Sports
The Gaia Royal Hotel gym and its complete range of workout equipment awaits visitors who wish to keep up their regime while on holiday, while the hotel's courts -tennis, basketball, volleyball, beach volleyball and mini golf course are available for even more fun and fitness. And finally, our beach has its own fitness area on the fine, white sand right next to the water, for truly Mediterranean workout sessions.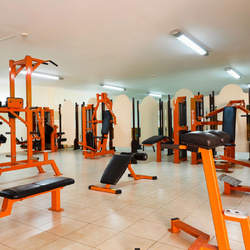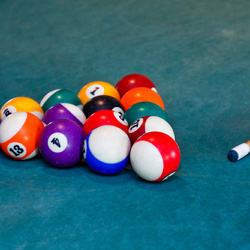 Mini Market
Necessity items as well as gifts and souvenirs are available to guests at the hotel's mini market. Here you will find alcoholic beverages, snacks, personal hygiene products, sunscreens etc., without having to leave the hotel complex.
Beach
For some, the island's most stunning beach, for others, the island's most picture-perfect sunset watching spot. Its crystal-clear water, warm and shallow, and its fine, white sand give this Mediterranean beach an exotic, tropical feel.
Well-organized with both sun umbrellas and loungers, this spectacular beach hugs the island's coastline for an uninterrupted 5 kilometers. And a slice of this heaven is a gift to guests of the Gaia Royal Hotel, who can enjoy the sea and sun just 50 meters from their rooms.
For even more water fun, there is a popular waterpark on the road from the hotel towards Mastichari.
Meals
The hotel operates on
All Inclusive basis
.
All pension meals are served in the main restaurant and terrace, in buffet-style, offering a large variety of international and local cuisine. Meals are accompanied with house wine, draft beer, soft drinks and water. Theme nights (such as Greek Night and other special nights) are organized in the main restaurant. In the afternoon, filter coffee, tea, cake and cookies are served in the bar.