Garden
The Gaia Palace Hotel was built around a natural setting with grassy areas interchanging with flowerbeds and fruit trees, and flagstone-laid paths winding their way around the property. Citrus and pomegranate trees, rose bushes and wild flowers, terracotta flowerpots bursting with flowers in full bloom all create an uplifting environment while spreading their intoxicating scents and lending their refreshing shade to the hotel grounds.
Swimming Pools
The three freshwater swimming pools for adults and three smaller, safe, young child-friendly children's pools are a source of refreshing fun and enjoyment for all guests. They are a hotel focal point, whose charms silently summon guests. Games and fitness activities are organized in the Olympic-size swimming pool, which also has lanes reserved for those wishing to swim laps. The adjacent children-only swimming pool provides a safe environment for kids to splash about and enjoy themselves.
The two smaller adult pools both have an adjoining children's area, so both big and small can revel in both invigorating dives and relaxing wading. The Pool Bar is available for all guests and offers tasty snacks as well as an assortment of refreshing drinks and soft drinks.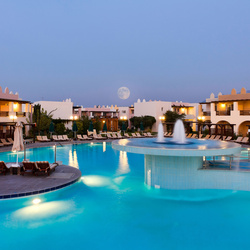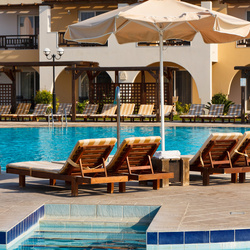 Tempting and nothing short of impressive
Entertainment
At the Gaia Palace Hotel, guests will discover the fun and enjoyment of good company, carefree holidays and truly get to experience what "
Greek entertainment
" means. The hotel's entertainment team frequently organizes events that put young and old alike in a lighthearted summer mood: water sports and games in the morning, fitness events both in and out of the water, aperitif games and nightly theme shows with music and dancing, contests and parties. Days and nights full of fun and unbridled enthusiasm.
For teenagers who want to escape the "
adult world
" for a while, Wi-Fi internet, electronic games, satellite TV, billiards tables and video games will hold their undivided interest in an environment where they can meet peers and make new friends, while younger children can enjoy the kids club, where enthusiastic instructors will engage kids in creative activities, including dance programs among others, both on and off the playground.
Sports
Fitness on the beach with beach volleyball, Zumba and aerobics; tennis courts, basketball and volleyball courts as well as a mini golf course and fully-equipped gym are some of the sports activities proudly available at the Gaia Palace Hotel.
Activities offering both serious fitness as well as fun tempt guests daily while offering them alternative ways to exercise both body and soul.