About us
Spread out across lush green gardens, a short distance (600 m) from Lambi Beach and its crystal-clear, shallow waters and well-organized sandy beach perfect for young and old alike, and just a few minutes from the city of Kos, the Gaia Garden extends a warm welcome to its guests, offering them flawless holidays with variety of accommodation, dining and entertainment.
Summery and elegant in its simplicity, with decorative elements reminiscent of the island's period under the Knights Templar, the Gaia Garden owes its seamless operations equally to its finely-tuned organization and its friendly, knowledgeable staff, ever willing to serve, facilitate, assist or arrange whatever might be required.
The hotel's central building includes the reception area and main lounge whose bar is an ideal spot to plan the day, regroup or have a drink before a night out, while on the first floor, the hotel's buffet restaurant serves up dishes inspired by both Mediterranean and international cuisines. The Roof Garden, with a stunning view of the gardens and the sea beyond, is where the hotel's fully equipped gym is. Its muscle strengthening and toning equipment and outdoor hydro-massage await visitors who wish to maintain their fitness routine even while on holiday.
Exercise and fun for all ages can be had in the Gaia Garden Hotel's two swimming pools, perfect for dips and laps, or sunbathing around a well laid-out poolside area that boasts comfortable wood sun chairs and umbrellas. An adjacent pool bar serves a variety of snacks, refreshments and drinks.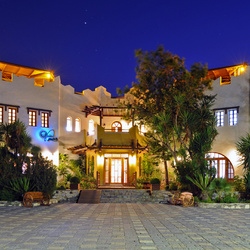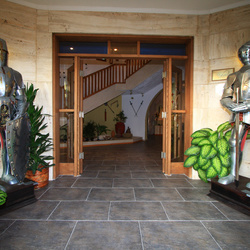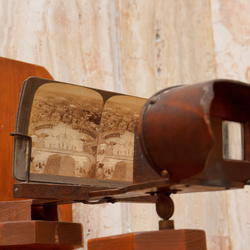 For sports enthusiasts, basketball, volleyball, beach volleyball and tennis courts are all available, while an outdoor area that includes billiards and ping pong tables offers yet another alternative for a holiday stay full of activity and new experiences. Young children can join in on the fun at the fully-equipped playground, which offers kids uninterrupted play in a safe environment all hours of the day.
This carefree, summer holiday backdrop is made complete with the hotel's 97 rooms, set amongst the lush gardens of the property, laid out in such a way as to satisfy the needs of visitors wishing for a serene, relaxing holiday with an abundance of services and options. With single rooms, doubles, triples and family rooms as well as superior category rooms for special occasions,
the Gaia Garden Hotel provides the variety characteristic of the 3-star hotel that it is, and openly offers visitors its facilities, knowledge and experience, while lending added value to the tourist infrastructure of the island of Kos itself.