Garden
A gem of a garden, created with loving care by the people of the Gaia Garden Hotel, and award-winning as one of the island's most beautiful. Bursting with vibrant colors and sweet aromas, decorative plants and fruit trees mingle to provide a respite from the heat in their tranquil shade. A lush embrace that hides a well-run, service-oriented hotel among the vegetation.
Swimming Pools
The Gaia Garden Hotel's two impressively sized swimming pools, one for adults and one for children, are a central focus of hotel life from dawn to dusk every day. Revitalizing dips, sunbathing, exercise and entertainment come together with water games, tasty snacks and refreshing drinks and cocktails and make the pool area one of the liveliest areas of the hotel.
Sports & Entertainment
Free Wi-Fi in all rooms and common areas, electronic games, ping pong and billiards tables, tennis, volleyball, beach volleyball and basketball courts, a fully-equipped outdoor gym, hydro-massage and traditional massage in special massage chairs provide a countless array of options in creative play, fitness, relaxation and entertainment for young and old, all hours of the day. Because at the Gaia Garden Hotel, your good time is our top priority and one of the keys to our success.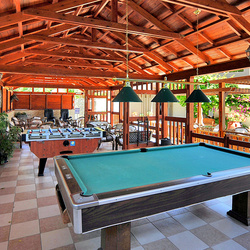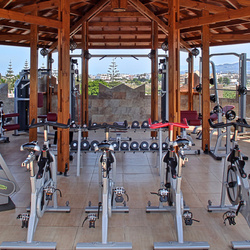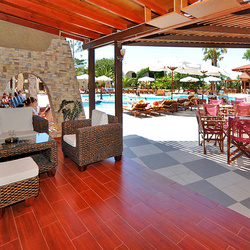 Meals
The hotel operates on
All Inclusive basis
.
All pension meals are served in the main restaurant and terrace, in buffet-style, offering a large variety of international and local cuisine. Meals are accompanied with house wine, draft beer, soft drinks and water. Theme nights and other special nights are organized in the main restaurant. In the afternoon, filter coffee, tea, cake and cookies are served at the snack bar.